The ALS Solid Wall System is a prime example of innovation in the landscape industry. In this article we explain more.
Judging by the response so far on our social media platforms, there are a lot of landscape professionals and architects who want to know more about ALS Solid Wall Systems. This is a relative newcomer to the industry and I think it has a lot of potential. Here's why

What is the ALS Solid Wall System?
The ALS Solid Wall System uses polypropene blocks to create a mould for your new wall or pool. Fill the mould with concrete, wait for it to set and bingo! A seamless wall, pool, Jacuzzi or planter all ready to be lined, tiled or rendered.
It is perfectly possible to incorporate filters, drains etc within the ALS Solid Wall System – they just need to be planned in advance.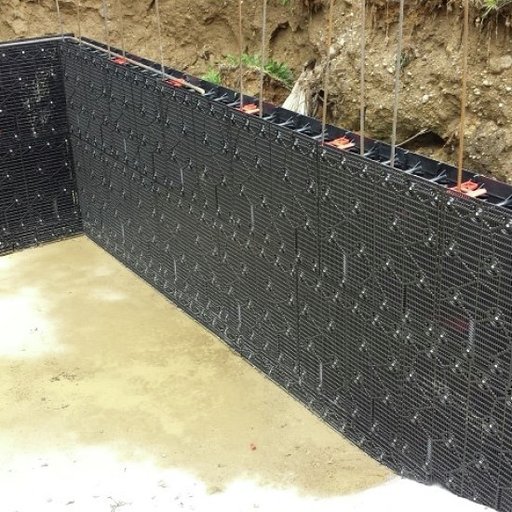 Pool under construction using the solid wall system
Once you've had a practice at using the solid wall system, we estimate it will be 60% faster than using traditional blocks for construction.
Where to use the ALS solid wall system
Use this system wherever you need a wall with strength and integrity. I'm sure you will have lots of ideas of your own, but I would suggest
Swimming pools
Retaining walls
Jacuzzis
Fish Ponds
Ornamental Water Features
As part of a water capture/irrigation system
Concrete planters for example as part of a commercial landscaping project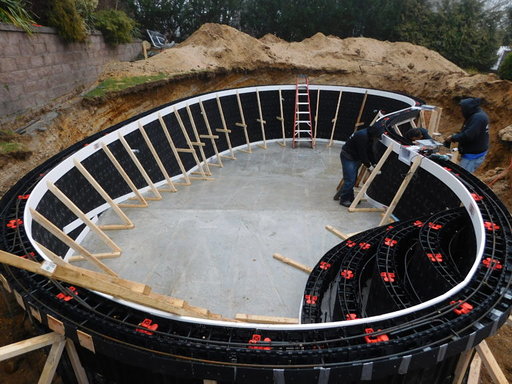 Flex units allow you to create curves and irregular shapes
Technical Stuff
The blocks come in different sizes and formats. All blocks are 15cm deep and 60.5cm long. They are available flat packed for you to assemble yourself or ready-assembled to save time.
Small blocks are 44cm high, large are 53cm high and if needs be all can be cut down using a simple saw.
Gutter supports and soles are also available.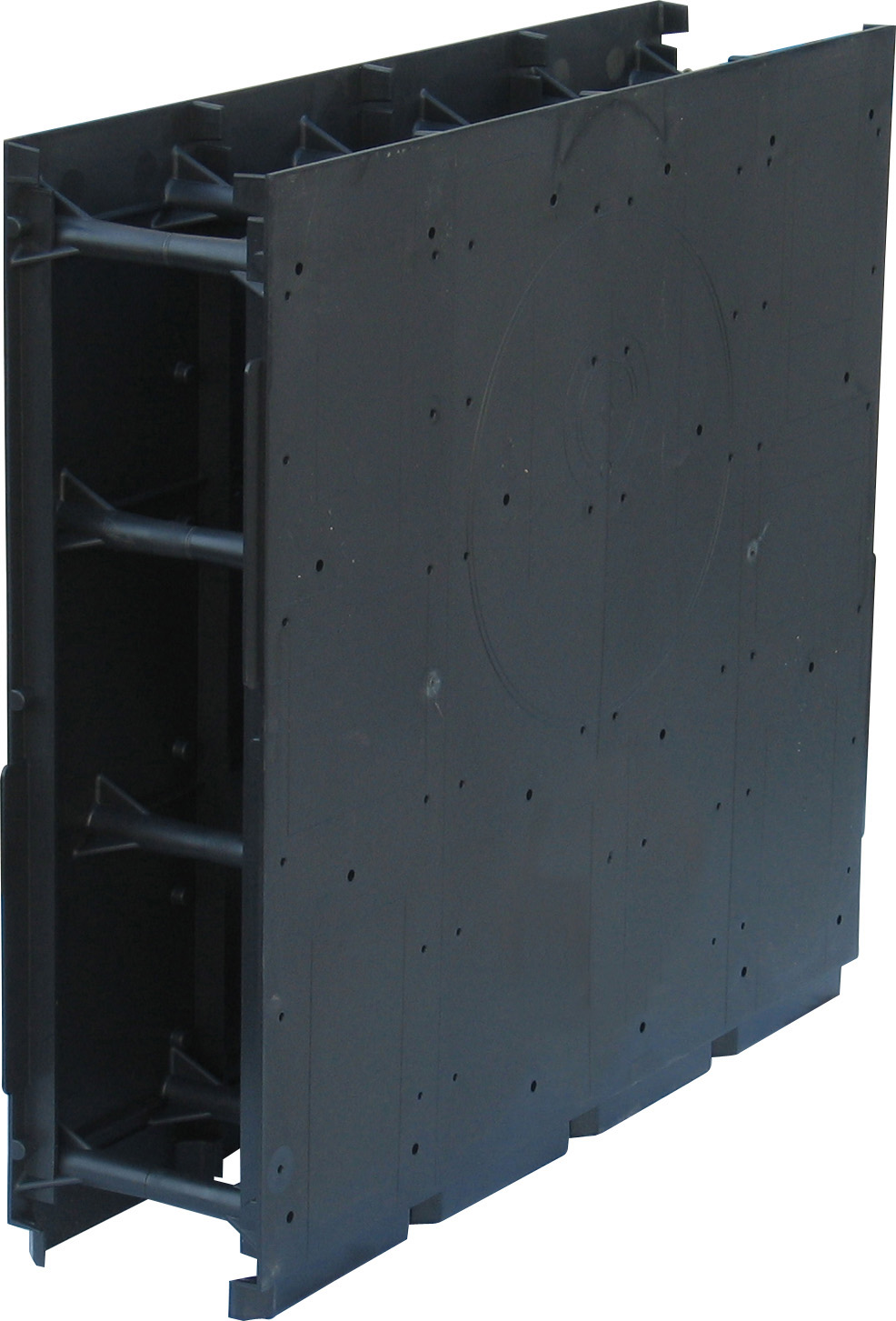 A single solid wall construction block. These are all made from recycled materials.
Choose your blocks according to the way your wall will be finished off.
If you need a smooth finish– for a liner or where the wall does not need to be finished, choose the SPL blocks.
SPT blocks are textured and will take tiles, render or a fibreglass finish.
SPT2 are textured on both sides so suitable for feature walls or where a finish is required on both sides.
The team at Arbour Landscapes Solutions are especially impressed with the flexi blocks which allow you to build curved walls.
Joining the blocks using the screws and clips supplied couldn't be easier.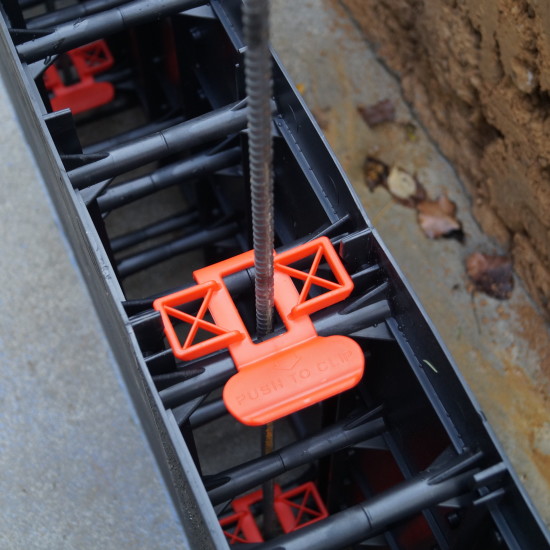 The only thing you need to remember when specifying the ALS Solid Wall System is that the maximum height for one of these solid walls is 1.62 metres above ground or 2.14 metres in ground. Anything taller or more technical (like a tunnel) will need to be calculated by a structural engineer.
What does it cost to install the ALS Solid Wall System?
The question I'm asked most about the ALS Solid Pool System is what does it cost? At the time of writing, the blocks, gutter supports and soles for a 10.14m x 5.3m pool using assembled blocks would be just over £4,500 + VAT and delivery.
You will then need to add concrete – allow for 0.048 m3 of concrete per block (there are 154 in this kit).
Finally, labour.
According to the manufacturers, a specialist team of 2 could assemble the form for this (10.14m x 5.3m) pool in around 9 hours. For an inexperienced team they recommend allowing 12 hours. You may also need to shore up the structure before adding concrete.
Allow 2 hours to pour the concrete and then whatever it would normally take you to put the finish on.
In all honesty, I think this is something you might need to allow yourself plenty of time for the first couple of projects. Maybe try a small retaining wall first to help you get the feel of the products? Like any new innovation, it takes a bit of practice but rest assured that the ALS team will support you in every way we can. Including asking the manufacturer to join you on site to share trade secrets.
Inspiration
Here are some images of projects already completed. I think you'll agree that it's a very professional look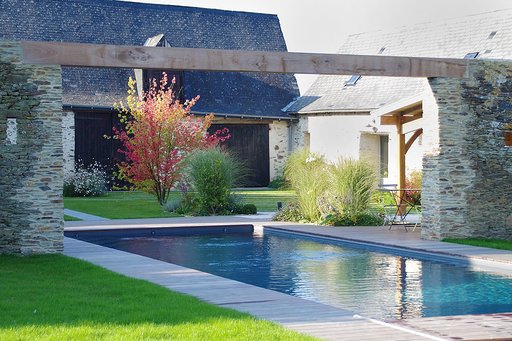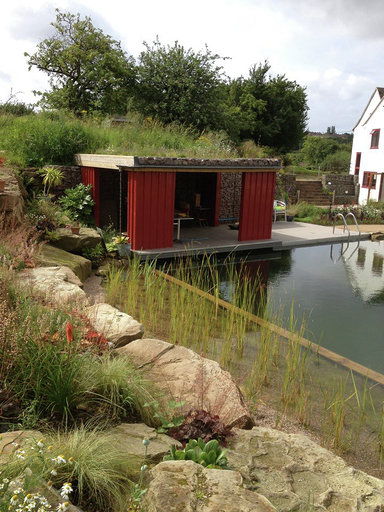 Stunning pool created by Poolscape Natural Pools
For more information, call or email Richard at Arbour Landscape Solutions. I can't wait to hear more about your project.