The New Grabo Plus
The Grabo plus with pressure gauge & zipped bag.
Your Grabo plus comes with a spare seal & filter, two batteries, charger and shoulder strap.

If you need spares get in touch.
Order before 1pm weekday for a next day pre-noon delivery (subject to t & c's)
About Grabo
Grabo® was invented and developed by Nemo Power Tools Limited, a leading developer of various premium power tools for professionals in multiple industries. Nemo Power Tools is based in Hong Kong, with engineering design and sales offices in Israel, USA and Australia.
Nemo originally custom-designed and built power tools for scientific and government organisations starting in 2010. They developed custom-built power tools for the USA navy, Israeli Defense Forces and other customers with unique requirements. In 2013 the decision was made to adapt the technology to commercial use and launch a range of premium products.
Since then, Nemo Power Tools has developed a wide range of power tools and accessories including cordless waterproof tools for the commercial diving and offshore drilling industry, and other marine rated equipment.
These power tools use technologies generally found in more high-tech products: batteries and electronics from the drones industry, cooling technology from the computer industry, and sealing and fabrication methods from the marine industry.
The experience gained through developing products made for the most extreme conditions on earth has helped build quality production lines with uncompromising quality controls, testing and engineering capabilities.
The Grabo is a patented and revolutionary new tool which was launched in 2019 and has fast become a highly popular solution to lifting and handling a huge range of materials in many different industries across 45 countries.
Grabo's technology and technical spec
Grabo incorporates multiple patents and technological innovations developed by engineers at Nemo Power Tools over the course of several years. This page summarizes some of the product's unique technical capabilities.
1. Adhesion to rough surfaces
Traditional suction cups are only capable of creating a good seal with flat, clean and airtight surfaces such as glass. However, Grabo's unique seal allows the tool to adhere to rough, etched surfaces.
The maximum surface roughness which Grabo can attach to depends on the exact 'profile roughness parameters' (The geometry of peaks and valleys in the material), and is generally limited to an amplitude of about 2.5mm (0.1 inch). This capability allows Grabo to create a seal with the majority of patterned tiles, pavers and construction materials.
2. Keeping a seal against porous materials
A porous surface is any surface which allows gas to flow though it. Many construction materials are porous to varying degrees. Most common porous construction materials are: wood, concrete, rock, gypsum boards and many ceramics and tiles.
Standard "suction cups" can not hold porous materials for more than a few seconds, even if the surface is flat enough to create a seal. A vacuum cavity on top of a porous material will quickly fail as air seeps in through the material.
Grabo overcomes this and allows secure adhesion to these materials by constantly pumping out a large volume of air at a rate greater than the diffusion rate of air though the surface.
The physics behind the calculation of flow rates through different materials is both complex and interesting. The flow rate required from Grabo to keep a strong vacuum seal against a porous surface, is generally described by a formula of generalized Murray's law:
The flow rate is than multiplied by the surface area under the seal for a given pressure differential, which results in the flow rate and power requirement from Grabo's internal electric pump.
However, as interesting as the engineering is, users of Grabo do not need to worry about the science. All you need to know, is the Grabo is designed to work well on some of the most common porous materials in the industry.
* For specific max lifting force capabilities, refer to the table 'Lifting force under different conditions' table.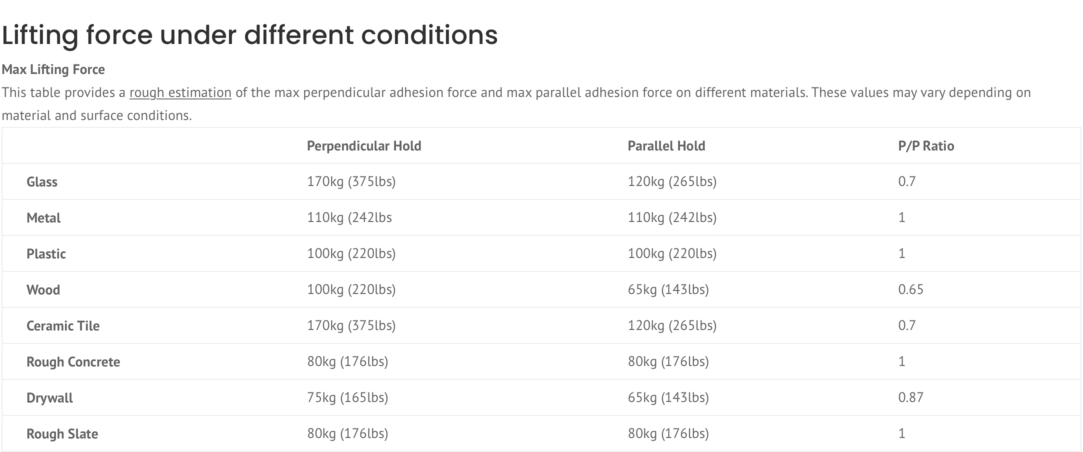 Warranty
We stand behind our manufacturing process and quality, and offer a full 1 year warranty on the Grabo.
What the warranty covers:
Defects caused by shipping and handling of the product.

Out-of-box defects caused by faulty materials, parts, and/or workmanship.

Any other manufacturing defects.
What the warranty doesn't cover:
Damage or failure clearly caused by misuse of the tool.

Damage or failure caused by normal wear-and-tear.
CAUTION
It is not advisable to use the Grabo on materials like slate which is foliated because, whilst a seal may be created on the top surface, the layers can separate causing the rest of the material to come away.
Do not use the Grabo on very thin or brittle surfaces including glass under 3mm thick, as the suction can cause the material to flex and break.
Do not use the Grabo on thin plastic sheet, rubber or other flexible materials. This is because the suction can flex the material up against the release valve that is operated by the red button, preventing release of the material.
Whilst the Grabo has very impressive capabilities, please test it before attempting to lift anything, to ensure you know its capacity on different materials you work with.
Contractors must ensure that products are fit for purpose - if in doubt,
please get in touch
Please note delivery prices are as accurate as possible at time of ordering, however this cost may be subject to change at any time due to weight/volume, fuel surcharges, currency changes and location.
Please let us know about any access restrictions at the delivery/check-out stage as failure to provide information may delay your order or incur extra delivery costs.
The administration team will contact you should any issue arise concerning delivery charges. Contact Arbour Landscape Solutions for more information. [email protected]
All materials are subject to availability at the time of order. The administration team will be in touch to arrange/advise of your delivery date.