Once a garden staple offering privacy, security, structure and form, hedges are all too often overlooked in modern garden design. We want to change that with our instant hedging solutions.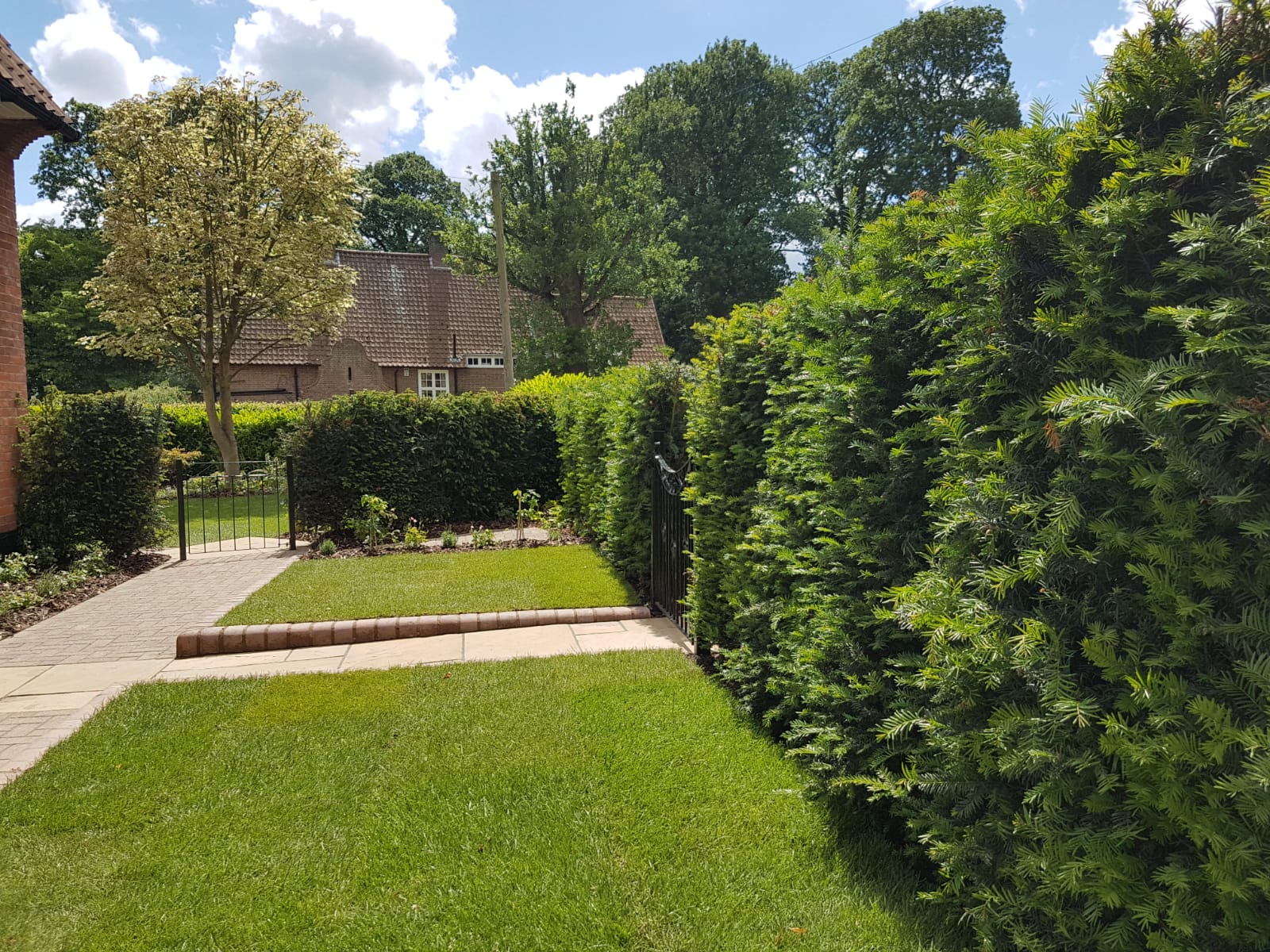 This yew hedge was installed less than 6 weeks before this photograph was taken. Image courtesy of Craig McGibbon Design and Landscaping
The UK is famous for its leafy lanes, cool woodlands, hedgerows and gardens that thrive in our temperate climate. Hedges were once a garden staple offering privacy, security, structure and form, but they are all too often overlooked in modern garden design. Why? Because it takes time to grow a hedge. And when a client is paying to have their garden rebuilt, they want it to look finished and be secure from the instant the landscaper leaves the premises. In short, they want to buy time.
I'm a man who values time and I can understand that point of view, which is why I'm a strong advocate of instant hedging solutions.
Reasons to switch from fencing to hedges
I recently heard a story where a hedge had prevented what could have been some nasty injuries. Driving along a narrow road, our hero rounded a corner to be faced by an articulated lorry bearing down upon him. There was no room for the vehicles to pass or even to brake in time so our driver swung the steering wheel and put the car into the hedge. The car doesn't look very pretty right now, but the driver and two tots in the back were unscathed. The hedge was flexible and absorbed the impact, and, in a relatively short time, it will heal itself. Had he have hit either the lorry or a sturdy fence – we might be looking at a different situation.
Hedges are part of our heritage. For centuries they have kept us safe, contained our farm animals, marked our boundaries, kept intruders at bay and yes, supplied food.
Hedges as a practical garden design feature
Garden designers looking to divide a garden into rooms, provide shelter from the wind or guide the eye towards a feature can rely on hedges to help them. Carefully chosen species offer a range of colourways and textures and of course, most hedges can be trimmed to any height you want.
Then there are the little things that might be imperceptible to the gardener but really do improve quality of life. Filtering pollutants from the air and absorbing traffic noise are just two of those things. Don't forget casting cool shade and slowing down strong winds. A thick hedge will help you create a microclimate in your garden – just like the walled gardens in stately homes – only cheaper to build.
A hedge supports a whole host of creatures. Insects, birds, beetles, spiders and some small furry animals will shelter in them. Some species of hedging plants – especially our native ones will flower in spring and offer up berries in autumn. Providing visual interest for the gardener and food for pollinators and for garden birds. Plant a blackthorn hedge and you'll be able to make your own slow gin! Can a timber fence do that?
Instant Hedging Solutions
It's true, growing a hedge from bare root stock or from potted plants is time consuming. That's why I was tickled pink when I discovered these instant hedging solutions.
They are grown in the UK – so no worries about Brexit or importing diseases like Xyella and of course, totally acclimatised to our weather.
Plants are grown in an enclosed trench so that the roots need not be disturbed when harvested. They are grown at the correct spacing and carefully trimmed 2-3 times a year to create an actual hedge. Lots of healthy foliage all intertwined to form a dense screen. At harvest time, the hedge is cut into sections and marked so that you can re-plant them in the right order. No one will ever know that your instant hedge has not always been growing where you've put it.
What impresses me the most is the quality. The guys working on the nursery really do take their job seriously. They know their plants and they work hard at the way the hedges are nourished, irrigated and trimmed to give the best possible shape and thickness.
But it's easier to show you than to tell you – so here's a video taken on the nursery.
Ordering and installing an instant hedge
Arbour Landscape Solutions offer a wide variety of instant hedges.
I'm a big fan of the native species mix and I'm predicting great popularity for it in the future. Having a mix of species is a great insurance against climate change and disease. If one species is not thriving then the other's will "cover for it". The conservation value of a mixed native species can never be underplayed. These are a source of food for many creatures, they are wildlife corridors and VERY hedgehog friendly.
To see what else is on offer – and we have lots of different species including holm oak, classic privet, copper beech, vibrant photinia and classic yew – log on to our website.
Installation is simple. Before the hedge arrives, you will need to have prepared a trench to plant it into. I will confirm the dimensions for you when your order is confirmed. Sections of hedge will be marked – all you need to do is use mechanical lifting gear to position the hedge sections. Infill with good quality topsoil and make sure you keep everything well-watered until the plants are established. You might want to think about an automated irrigation system.
Delivery lead times
Our instant hedges are grown in England. If you need a delivery to mainland UK we can normally fulfil it within 2-3 days. If you are in the highlands or islands it may take a little longer to organise ferries etc.
Online ordering
Our new website allows you to order your instant hedging solutions online.
View our range of instant hedging solutions and order online