Are you spending too much time trying to source plants for your landscaping projects? The Landscape Industry Specialist has a time saving solution for you.
As landscapers and garden designers, your time is a precious resource. You simply cannot be in several places at once. Managing projects, getting on the tools, looking for new work and keeping clients happy all take their toll on your diary and, if you're not careful, your health and wellbeing too.
Some jobs simply cannot be done by anyone else. Only you can put your unique stamp on to a project. But there is at least one time-thief that you can banish. Plant sourcing.
When you ask Arbour Landscape Solutions to help find specified plants, a big weight is lifted from your shoulders. Richard's service includes
Talking to trusted growers all over the UK and beyond to find the quality and quantities of plants at the right price
Finding labour-saving ways to achieve your planting aims
Sourcing unusual plants and trees
Selecting and tagging (if required)
Ethical sourcing to avoid bringing plant pests and diseases into the UK
Ensuring plants are delivered where you want them, when you want them
Getting the price right
Clients always expect a project to be delivered on price and on budget. But unexpected challenges on site can sometimes eat into the budget for plants and planting. Please don't let that be a worry to you. Arbour Landscape Solutions was set up to help landscapers and garden designers to find quality products at sensible prices. And when budget is squeezed, Richard's innovative approach can help you find ways to save on plants and labour.
Richard is quite possibly amongst the UK's largest buyers of plants and trees. Couple that with the fact that he works on some prestigious projects, means that growers are keen to do business with him. This is reflected in the price. Cost savings and economies of scale are of course passed on to Richard's clients.
It doesn't matter if you need one tree or thousands of herbaceous perennials. Every request is subjected to Richard's tenacious attention to detail.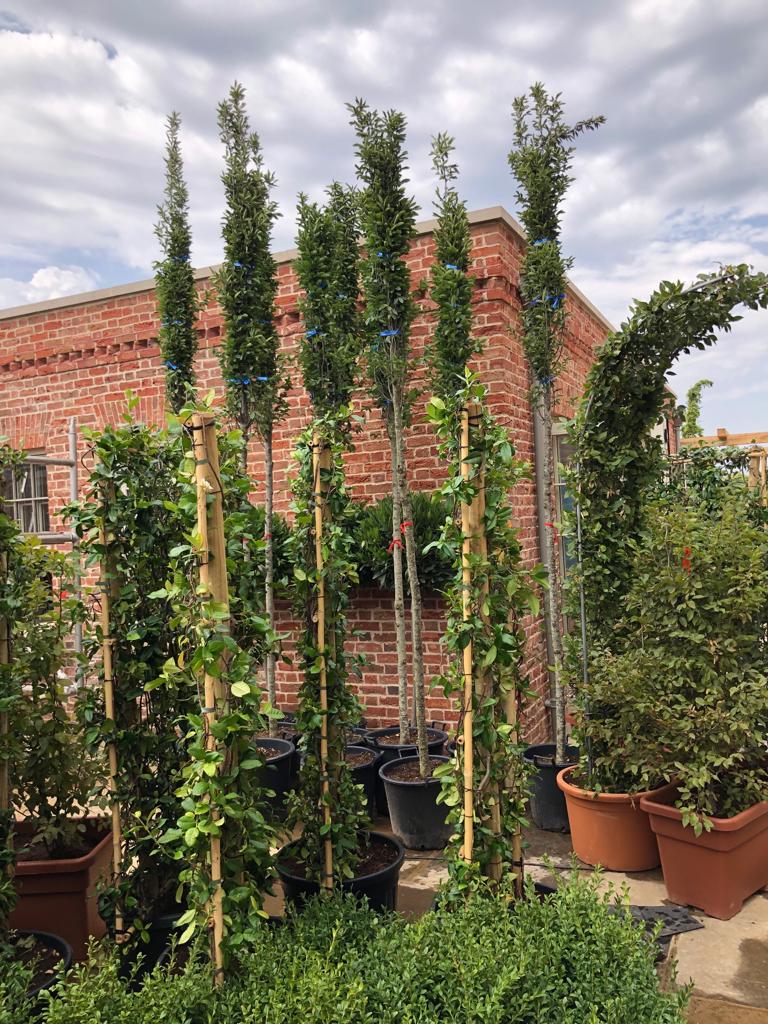 A selection of trees, plants and shrubs sourced on behalf of a client in Buckenhamshire. The order included buxus balls, pleached Quercus Ilex, Carpinus hedging, a Carpinus betulus arch and 500cm tall wisterias.
Finding labour-saving ways to achieve planting aims
Planting is a joy but can take a lot of time and labour. So when you have a large project to work on, why not consider some labour saving products to get the job finished quicker.
Having grown up around plants and planting and with almost three decades worth of experience running a landscaping business, Richard has plenty of labour saving tricks up his sleeve. And the good news is, none of them involve compromising on quality.
Consider for example, using wildflower turf instead of plug plants; or installing instant hedging instead of individual plants. In the hard landscaping department there are some cheeky innovations such as a solid wall system and/or pointing materials that can be used in any weather. But that's for another article.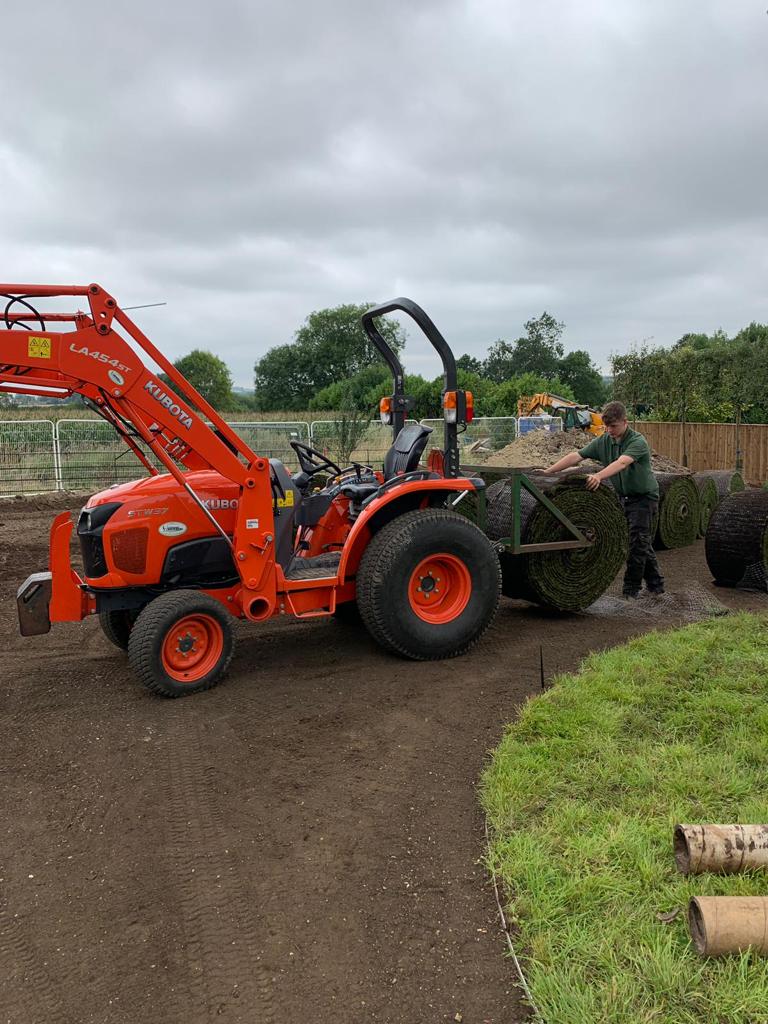 Jumbo rolls of lawn turf not only save time, there are fewer joints between turves making a more attractive surface while the lawn establishes.
They do need special equipment for installation but once again, Arbour Landscape Solutions can arrange that for you.
When you want something out of the ordinary?
Don't you ever get bored with specifying and planting the same old things just because they are what your local nursery has plenty of?
Why not think outside of the box? With the Arbour Landscape Solutions plant sourcing service, almost anything is possible.
Stuck for ideas? Richard is always ready to offer suggestions that you might not have thought of. Unusual eyecatching plants will make your projects unique and send clients into raptures.
Edlesborough pics
For difficult situations don't rule out artificial plants. Our sister Company
Green Envee
offers artificial planting solutions for those awkward spots where plants won't thrive, or for projects where minimal maintenance is a key consideration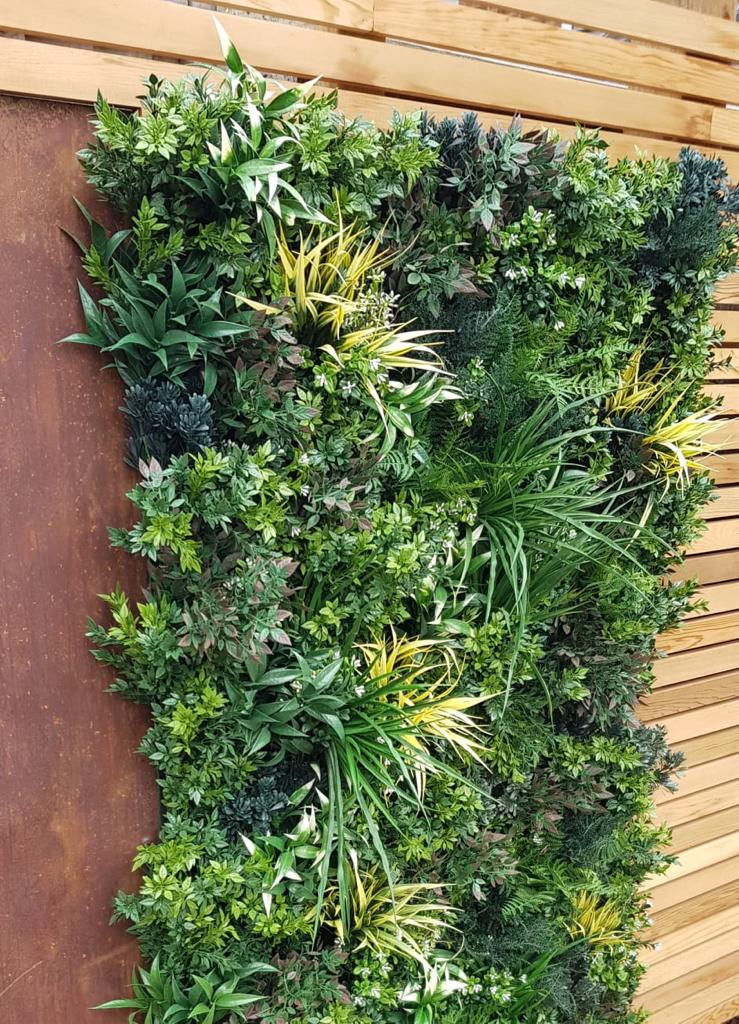 Artificial green wall panels are the perfect solution in this courtyard garden where limited daylight combined with the client's need for low maintenance planting are major challenges. Fabulous work by Paul Newman Landscapes
Selecting and Tagging
No need to waste valuable time driving to nurseries to tag the plants and trees you want. Your landscape industry specialist is a landscaper and garden designer himself. He knows what to look for in a plant and will understand exactly what's needed to bring your design to life. Put your trust in Richard and you know that you can get on with the profitable bit of your business while he does the plant sourcing legwork on your behalf.
Ethical sourcing
With plant pests and diseases appearing in the news more often, it's vital that we all work together to avoid importing and spreading plant pathogens. Every single plant supplied by Arbour Landscape Solutions has either:
Been entirely propagated and grown in the UK, or
Imported and appropriately quarantined
At the time of writing we are actively looking for alternatives to plastic plant pots and packaging - watch this space!
Timely deliveries
Last, but by no means least, the delivery. The stress levels of any project hinge upon deliveries. Plants arrive too soon and you have to store them somewhere and care for them until you are ready for them.
Plants arrive too late and everyone is twiddling their fingers with tensions rising.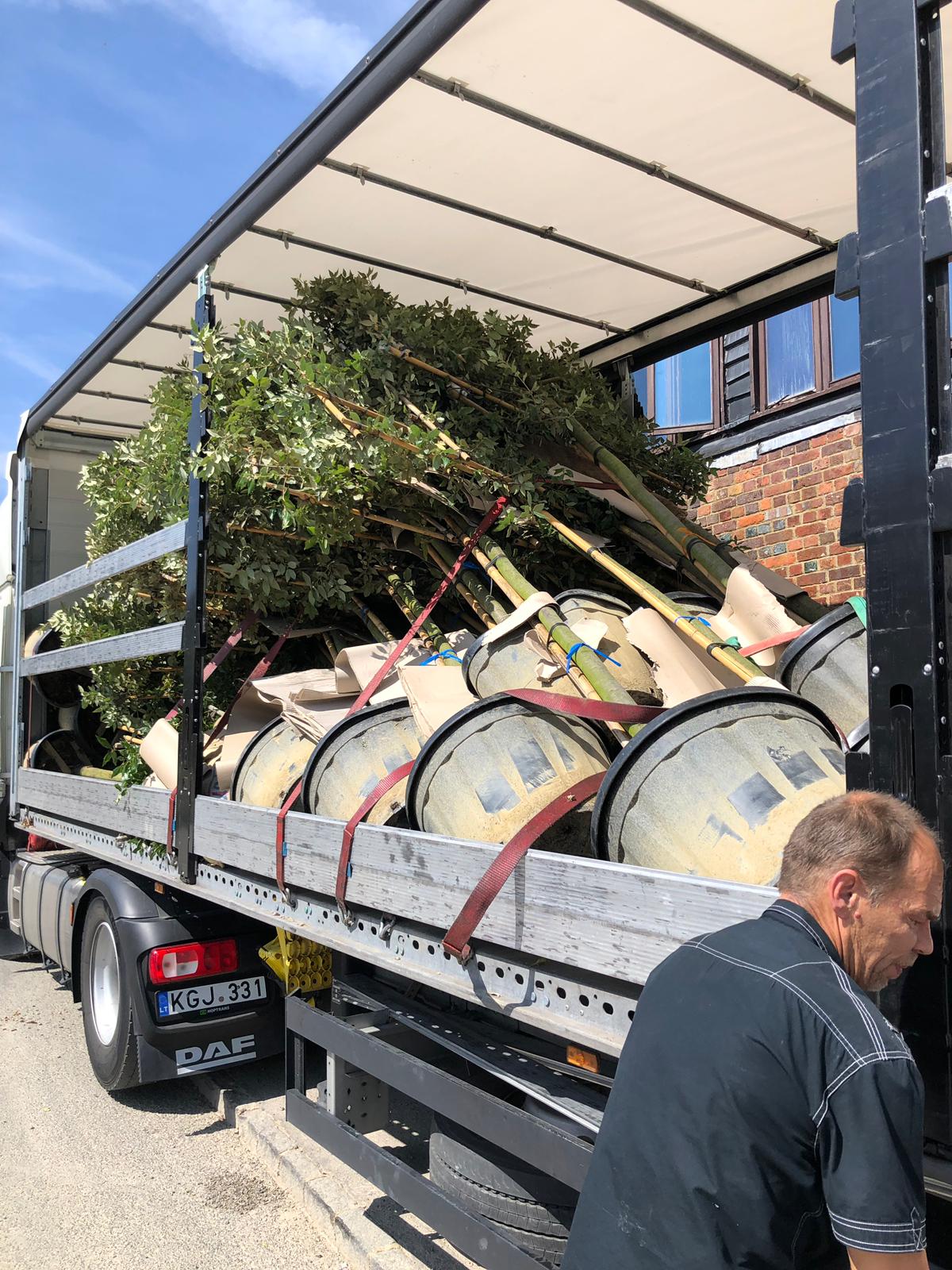 The plant sourcing service from Arbour Landscape Solutions includes arranging deliveries on your behalf and keeping you up to the minute on expected times. If the lorry is delayed en-route we'll let you know so that you can arrange your day.
All we ask is that you give us as much information as possible about the site access. Is it suitable for an artic? Are there problems with parking at certain times of day? Do you have unloading equipment on site? Little details make big differences.
Get in touch with Richard at Arbour Landscape Solutions
Take a look at some of our plants
Follow us on Social Media for inspirational planting ideas
Facebook
Twitter
Instagram
Linkedin