The power of lighting to transform a garden is strong, Even the most beautifully constructed garden can benefit from lighting to highlight steps, plants, trees and garden structures elevating gardens to new heights and magnifying both species and design.
The aesthetics of lighting are not the only factors to consider, lighting will ensure visibility, safety and security for any project.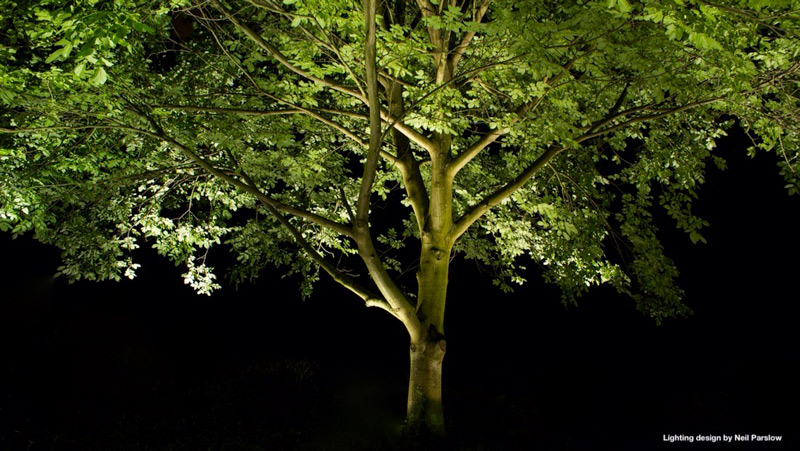 What are the benefits of bringing light to your garden?
Good lighting extends the length of time clients can spend in their garden - combined with heating solutions so that they can relax comfortably and reap the return on investment for at least 10 months out of 12. This would be a good boost to property value.
Lighting enables us appreciate the garden on cold winter nights by lighting it up and creating a winter wonderland to enjoy from the warmth of the indoors!
Low level lighting helps to illuminate visiting night-time wildlife.
It is cheaper (and more attractive) to install lighting whilst landscaping rather than as an afterthought.
Inventive lighting brings a whole new perspective to water features.
Well-lit properties create a warm and impressive welcome.
Lighting enables enhancement of key features in a landscape and draws the eye away from more practical areas of a garden.
The Arbour Landscape Solutions lighting range consists of 9 designs – all created and manufactured in Britain and forms part of our Made In Britain Range. The range can light any garden and includes base lights for doorways and drvieways, bracket lights, eyelid step lights, spike lights and underwater lights, so that any garden project can benefit from the gloss that lighting brings.

About Arbour Landscape Solutions lighting
Designed, manufactured, and hand assembled in England
10 Year Warranty
Black UV stable polyester powder coated 316 stainless steel or machined 316L stainless steel construction
Class III (SELV)
Wiring to be in (SERIES)
Requires a remote (constant current) LED driver 700mA maximum
350mA = 1.2w, 500mA = 1.7w, 700mA = 2.4w drivers can be used
Forward voltage: 3.2v DC
Colour temperature: 2700K (warm white), 4000K (cool white)
Light source: Cree® XP-E (Light Visuals proprietary Interchangeable LED board)
BIN: 8B4 Q3
CRI 85
[email protected] [email protected] (Typical)
Dimmable 0-10V
Beam choice; 10º, 18º, 32º, 42º colour coded interchangeable optics
IP68 (submersible)
1m 2 core HO5RN-F rubber cable (can be supplied up to 10m at additional cost)
10 year warranty on brass, stainless steel, powder coated stainless steel finishes
5 year warranty LED board
FREE DELIVERY (uk, weekday, anytime delivery only)
We offer discounts on 5 units or more to our customers.

Do you need persuading? Take a look at these wonderful garden photos of projects undertaken by Neil Parslow a talented lighting designer who knows just how to bring the right lighting accents to gardens.