You know what it's like………on-site at 7 am, project managing your team, physical hard work all day, timing your deliveries to keep on schedule – and then – that 11 am delivery of stone, or soil, or mulch, or plants, or seed, or lighting (trust us we could go on…!) just doesn't show up. Your day has been planned around that delivery and without it the next stage of works is delayed.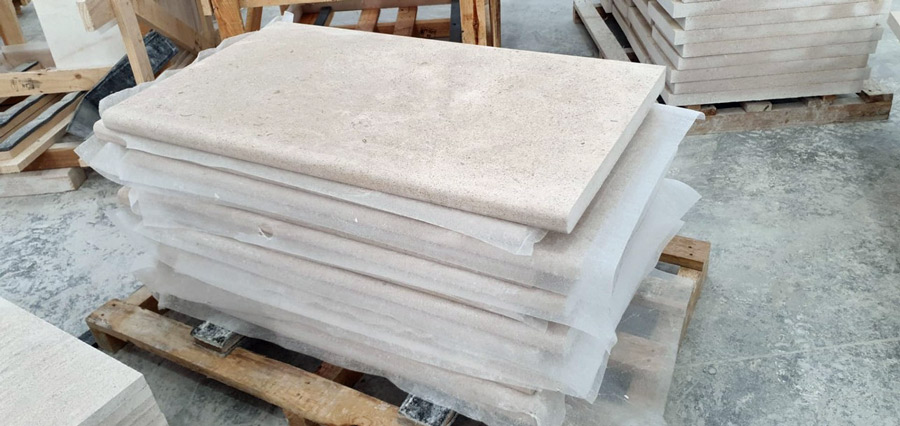 A bespoke order of limestone for one of Arbour Landscape Solutions' clients.
Our close relationship with the quarry ensured that we were able to deliver this 4-5 weeks earlier than other suppliers had quoted
How is this going to work out?
You will now spend the next couple of hours calling multiple suppliers to source what you thought you had already ordered – perhaps you will have to substitute what you had selected for another product? The outcome? Frustrated client, frustrated landscaper – and a long night ahead sorting it out.

Delayed supplies can undo reputations. We understand that and that is why Arbour Landscape Solutions can help you to take the stress out of procurement. Not only does our service bring HUGE time-saving benefits to already stressed landscapers, we pride ourselves on logistics to ensure that you won't be 'waiting' for that 11 am delivery again which just – doesn't – show – up.
How can we help?
Choose from over 1400 products – which is set to increase further.
Curate your order in your own time as you plan your projects
Benefit from a 5% discount if you are a new customer.
Co-ordinate your products to arrive on time to fully support inflexible installation schedules
Bespoke product sourcing from Richard Bickler – if you cannot see what you need on the website we will source it for you from our international network of suppliers.
Let us visit you with samples so you and your team can select the best option for your projects.

With 30 years of landscaping experience, we really are happy to help and endeavour to support and assist our fellow landscapers with any landscaping challenges.

We LOVE to see your projects and will always feature completed project images on our website and promote you and your company via our social media channels.
What have you got to lose?
Give the system a try, see if it takes the pain out of procurement – and when it does, let us know and we will promote your business.

Register as a trade user (takes seconds!)

Learn about our unique, online quoting system

Read the reviews on our Facebook Page

Check out our Google reviews