In this article, Richard Bickler shares some invaluable tips on keeping business costs under control.

With three decades of landscaping experience, Richard Bickler is no stranger to the devastating effects of hidden costs and unexpected price rises. From extreme weather conditions, to employee sickness, delays in deliveries and nasty tax bills, he's been on the receiving end of all of it. And he's learned plenty of lessons along the way.

A back injury means that Richard can no longer get involved with hands-on landscaping but that doesn't mean that his passion for creating beautiful spaces has been diminished in any way. As MD of Arbour Landscape Solutions, Richard has set out to make life easier for all of his industry colleagues. Which means that he not only works tirelessly to rootle out the best prices for landscaping materials, he's also very happy to share his experiences to help others.
The Landscape Industry Specialist's top 10 tips for protecting your profit margins by getting costs under control.
Research products carefully before quoting for a project. The big brands are not always the cheapest. You may find the same/very similar materials available elsewhere at more competitive prices.
Develop a strong relationship with suppliers – the good ones will let you know when there are discounts to be had.
Don't guestimate prices for materials. Talk to suppliers BEFORE you submit the quote to your customer. Watch out for hidden costs. Make sure prices include delivery, offloading etc

Register online to use the free online quoting facility on www.arbourlandscapesolutions.co.uk

Things like late deliveries really impact on labour costs – choose your supplier wisely – customer service is just as important as pricing.
When clients ask for a tweak here or there, be sure to re-quote.
Have a water-tight contract with the client. For advice on writing contracts and/or terms and conditions visit the Landscape Library
Train your staff – don't attempt work you're not qualified to do. Yes, there is a cost to training, but the cost of remedial work is even higher.
If in doubt – ask. Your Landscape Industry Specialist is here to offer technical advice on choosing and installing landscaping materials.
Nip complaints in the bud – but take them seriously. If your client is being unreasonable, bring an industry expert in to mediate.
Get a good accountant – make sure you are taking advantage of every possible tax-break.
Where to go for help with Sourcing Landscaping Materials

You have your design, you know within a little which materials are required. Now it's time to find the best prices.
You could spend time talking to supplier after supplier, trawling through catalogues, gathering samples, checking on availability etc. Is that the best use of your time? Will any possible price savings actually cover the cost of your time?
Or
You could make full use of the tools on the Arbour Landscape Solutions website to find the products you need, and get prices and samples with just the click of a mouse.
Remember, that all of these tools are available 24/7. There's no waiting for the office to open or the rep to come back from holiday. The information you need is there, instantly.
Online Search tool

Simply visit Arbourlandscapesolutions.co.uk , type your key search terms into the box at the top right hand side of your screen and the website will find a selection of products. Here's the results of a search for "grey porcelain"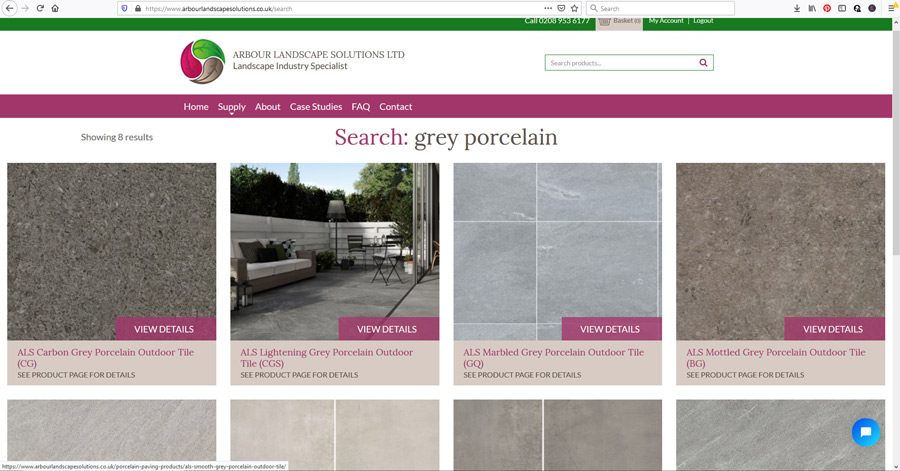 Click on the product to find a description, specifications and information about delivery lead times. If other customers have left a review, you'll be able to see it here and use it in the decision making process.

If you like the product you can login to your trade account to add it to a project quote so that it's easy to find in future.
Online Quoting

Like the look of a product but want to compare it with others? Simply click the "add to quote" button in the description. You can create a quote for each project and add as many products as you want to – then delete them again if they're not right. It's a good way to compare and contrast prices.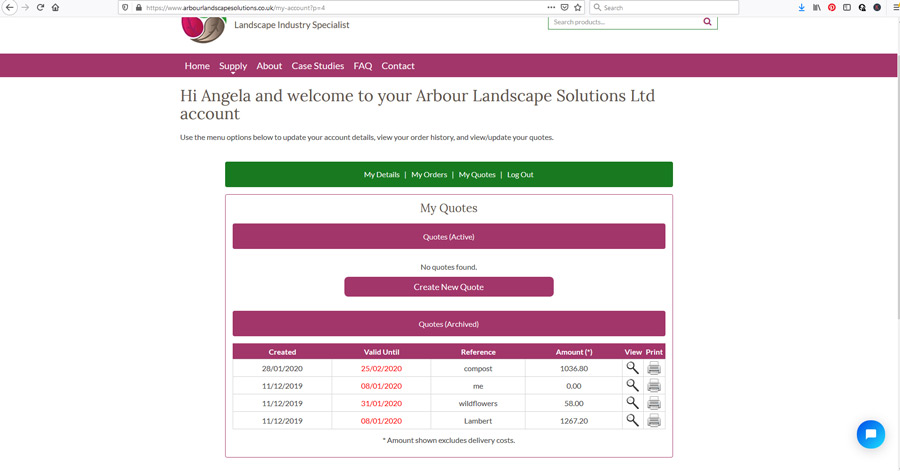 Our quoting system doesn't hide anything from you. You'll see delivery prices, VAT everything.

Discount for online quoting virgins – if this is your first time using the ALS quoting system, our team will apply a 5% discount to the entire quote. Redeemable if you order within 30 days.
Request product Samples

Most of the products on the Arbour Landscape Solutions website are available as samples. Simply login as a trade buyer, visit the profile for the product(s) you are interested in and click on the "request sample" button. Our team will be alerted immediately and will get in touch to arrange the delivery.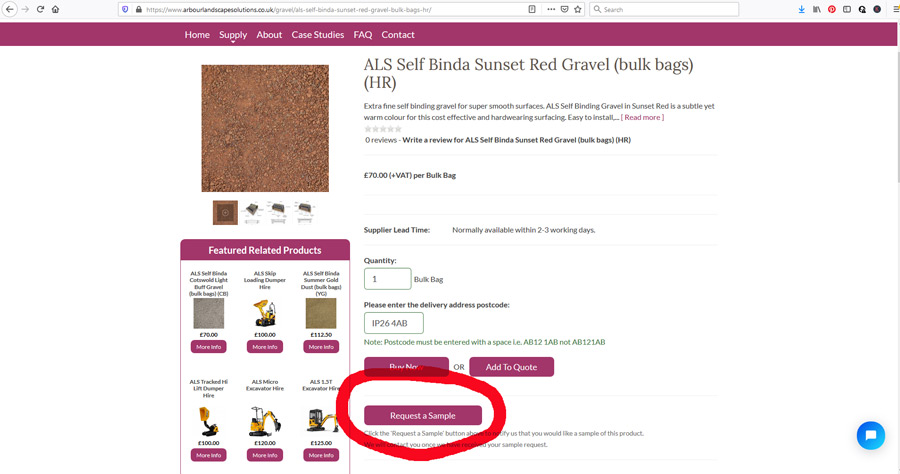 Technical Information

Wondering which sub-base, adhesives or sealing materials to use? There is a confusing array of information out there. Don't make costly mistakes? Talk to your Landscape Industry Specialist for free advice on any landscaping products…..even if they're not on the website yet.

Another great source of advice is the Landscape Library. Written by Alan Sargent, a consultant with over 50 years-experience, this is an incredibly useful resource. Click here to find out more.
Finding Reliable suppliers

The average landscaper buys from an average of 25 different suppliers. That's a lot of people and it can make project management quite consuming.

Richard's business, Arbour Landscape Solutions is all about freeing up your time and allowing you to focus on the build. In short, when you buy from ALS, it's simply a matter of choosing products, defining the quantities and requesting the delivery date. Richard and his team will liase with manufacturers, growers and hauliers and then let you know when to expect your goods.
Business Matters

Arbour Landscape Solutions can't run your business for you; that would be daft. BUT, Richard and his team can offer advice on landscape consultancy, technical information, marketing and product sourcing. And if they're not sure, they'll put you in touch with the experts.

Got questions about product sourcing? Come along to Futurescapes on 17th March 2020 where Richard is taking part in the seminar program. At 3pm, he'll be answering questions on "The DNA of Purchasing: The best buys from the best guys". The show is free to attend and well worth a visit.

More details here:
Useful Links

Landscape Library – articles and answers on everything related to running a landscape or garden design business

Product Sourcing services from Arbour Landscape Solutions

Website design and SEO services from Upshot Media