Vertical gardening is at an all-time high and I'm seeing more and more opportunities for landscapers and garden designers working in this sector. This article takes a long look at living walls. What are they for? How to build the infrastructure for a living wall and which plants to choose.
What is a living wall?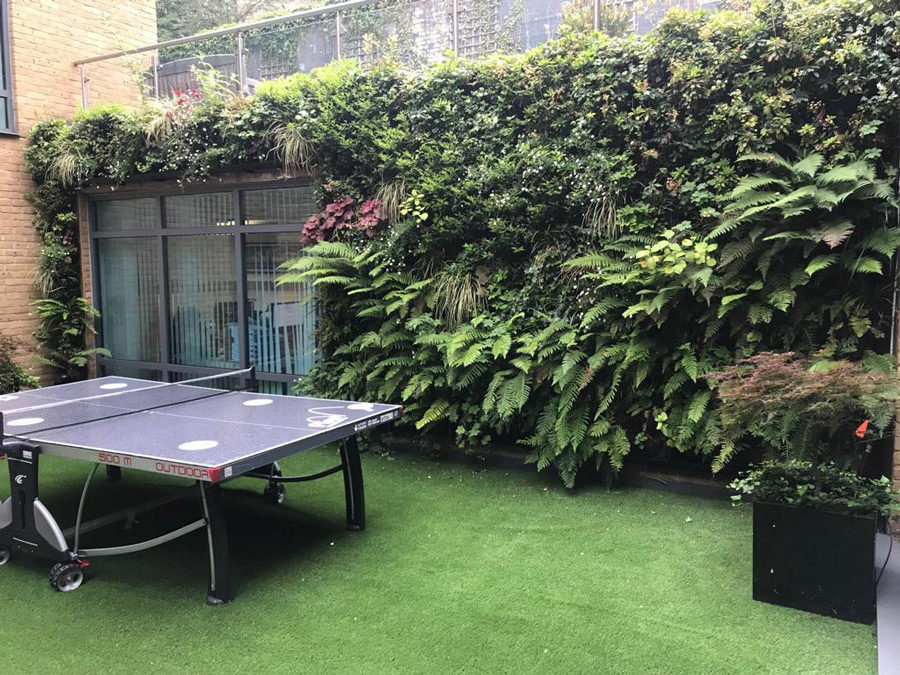 Glorious living wall created by Scotscape

The definition of a green wall aka a living wall is "A vertical built structure intentionally covered by vegetation".

Until Patrick Blanc started experimenting with vertical gardening in the 1980's, living walls were largely limited to the height of terrestrially grown plants. I'm talking of espalier fruit trees, supported wisterias, virginia creepers, clematis and the like. The maximum height of a green wall would be 15 metres at the most, however, thanks to Patrick's lively mind and the efforts of some amazing suppliers, it's possible to create living walls in the most unlikely and hard to reach places.
Why create a living wall?

As landscapers and garden designers, you'll be no stranger to the concept of biophilic design. Using plants to create a sense of wellbeing. The green wall concept was first grasped by the world of contemporary art. It was (and still is) a form of decoration. However there are a myriad of other benefits associated with green walls including insulation, improved air quality, biodiversity and, for the organisations that adopt them, great PR.

Within a landscape design I can see a living wall being used for
Screening and disguising practical but unattractive garden buildings.
Adding an extra dimension in small gardens.
Cocooning – making a space feel cosier/safer/more comfortable.
Food production in small spaces.
Bringing the outdoors indoors with interior green walls.
A sensory experience level with hands, eyes and noses.
Repelling unwanted insects such as mosquitos.
Building a living wall – the principals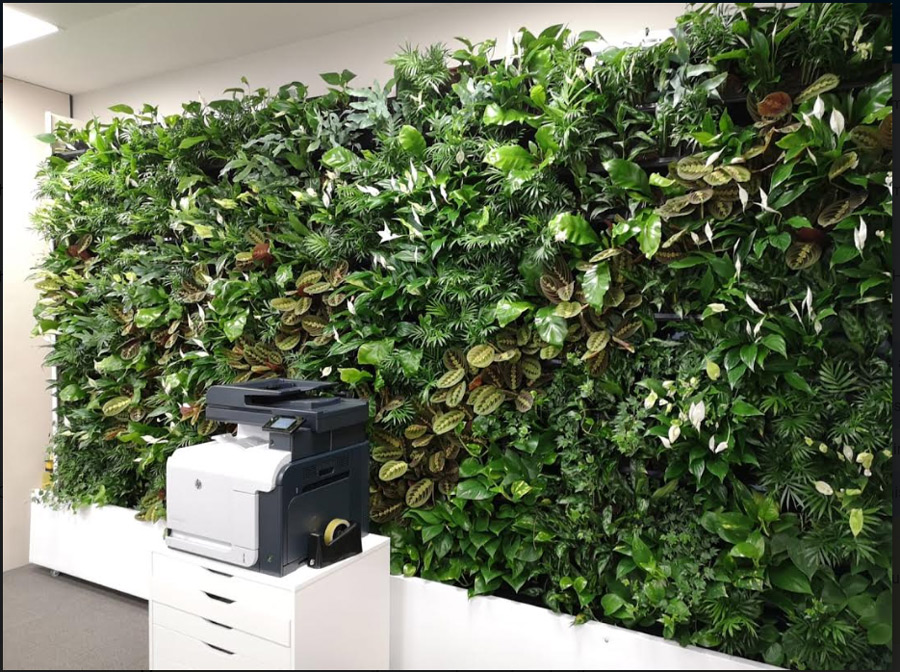 Just like green roofs, a successful living wall is a fine balance between engineering and ecology. The main difference is that most green roofs are only subject to close scrutiny once or twice a year. A living wall is right in front of your eyes for 365 days a year. How will you keep it healthy and attractive?
My advice would be to talk to clients before investigating systems and deciding on plants. The key to a beautiful living wall is maintenance. If your client is not willing to monitor irrigation systems and check plant health themselves they MUST budget for a maintenance service.
Planning your green wall
Protect the structure against damp and root invasion.
Buildings must not be compromised by the weight of your living wall system.
For walls over 2m tall, consider the potential influence of the wind. If in doubt, talk to an expert.
Ensure that your project will not cause conflict with neighbours – particularly if party walls or boundary walls are involved.
Consider the exposure – try to site your wall so that it is sheltered from drying winds, hot sun, frost and extreme shade.
Careful plant choices are key.
A built in irrigation system is essential, preferably one that will recirculate water to reduce waste (although this isn't essential). Make sure the wall manager knows how to maintain and use it!
A very simple living wall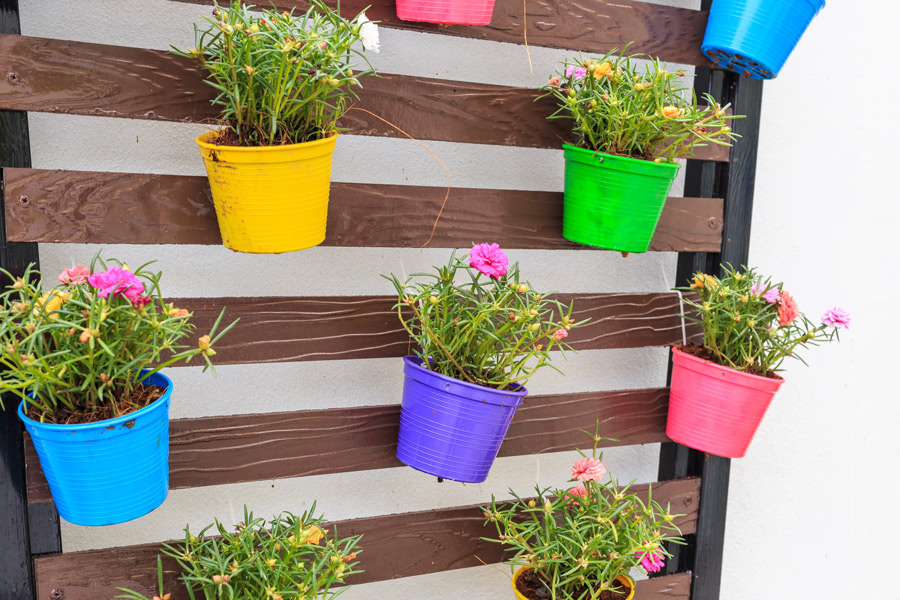 This is a living wall in its simplest possible form. AND it's the basis for the ALS Living Wall Kit
Plants are in pots and can easily be rearranged or replaced.
More pots can be added to create a lusher, more verdant look.
No roots come into contact with the wall – in fact – with a bit of tinkering, this could be self-supporting.
Wall needs protecting against damp.
An automated irrigation/feeding system would make management much easier.
For a more sustainable system, replace the pallet with something with a longer shelf life.
The ALS Living Wall Kit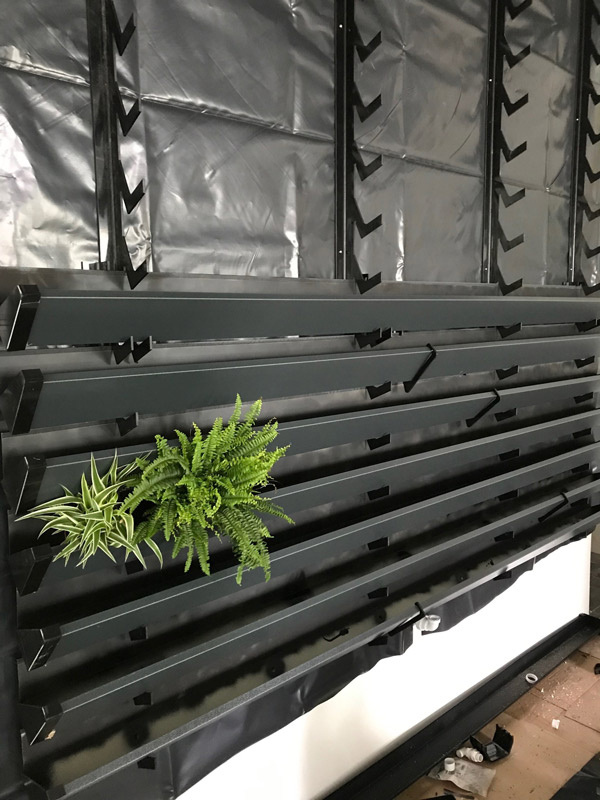 There are many living wall systems on the market, or, of course, you can create your own. The ALS Living Wall Kit however, has one of the most user-friendly installation and management techniques out there. Here's how it works:
The supporting wall is protected with DPM or a similar membrane which covers the whole area behind the installation.
Don't forget that the membrane needs to be directed into drains, gutters and/or perimeter trims. (There are some very attractive slot drains available to order from our website.
https://www.arbourlandscapesolutions.co.uk/als-living-walls/
Next comes the vertical support battens. Mount them onto the wall using suitable fixings. Remember that the finished system, when it's planted up will weigh in the region of 55Kg per square metre without factoring extra forces from the wind.
The vertical support battens have little arms. These are to support the horizontal LPR rails – in effect, these are troughs that support the plants and facilitate watering via capillary action. Each rail will need end pieces.
Next comes the irrigation lines connected to control valves.
Finally the planting. Simply sit the plant pots into the LPR rails. That way there's no faffing about trying to work with loose substrate, trowels, pots etc. Don't like the arrangement? Swap the plants around without disturbing root systems. It's a horticulturists dream. Allow 6-7 plants per linear metre of rail or 36-42 per square metre. P9 square shaped 1litre pots work best.