One of the most popular categories on the Arbour Landscape Solutions website is our plant and machinery hire section.

There cannot be a landscaper out there who at some time or other hasn't needed to hire a piece of plant or machinery. Finding the right hire service at the right price with the right tools available can mean a lot of phone calls. Not anymore.
Landscape Industry Specialist Richard Bickler has developed a nationwide tool hire service where all the leg work is done for you – for free.

All you need to do is talk to Nicola - Richard's tool hire specialist – let her know what you need and when and where you need it. Then you can get back to work while Nicola makes all the arrangements for you. If it sounds simple, that's because it is.

Selection of the Machinery available to hire

Here are just a few of the options available to hire via our website. Prices will vary according to where you are and the timings involved. However we're confident that these prices are very competitive.

Prices shown are correct at the time of writing (November 2019) but may be subject to change.
Excavators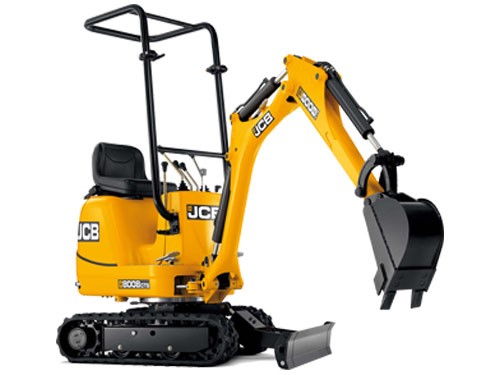 Hiring an excavator is a fine balance between finding something large enough to do the work quickly, but small enough to handle tight access.

This micro excavator is only 700mm wide and will happily dig trenches and holes up to 1.6 metres deep.

Need something larger? – no problem – we can definitely help.
Dump Trucks

Shifting rubble? Our dump trucks have the capacity to lift up and empty their contents into a skip. Perfect! It saves hours of shovelling and sits more comfortably with Health and Safety rules than the old wheelbarrow and scaffold board combination.

Wheels or tracks – you choose

Pumps

I'm writing this in what is probably one of the wettest months we've experienced in a long while. Only this morning, I read on a landscaper's forum on Facebook about projects where work simply cannot progress.
Sometimes though, all it needs is to hire a submersible pump to move water around the site. Perhaps you need to empty a pond in order to fix the liner. Maybe you want to dry out a trench so that you can prepare footings.

Pump hire starts from just £50 per week – it's worth it just to keep a job ticking over until the weather improves.

Lawn Care Equipment

Ah, those seasonal lawn care jobs. Unless lawn care is the main focus of your business, you are unlikely to want to invest in a machine which only gets used a couple of times a year.

Hiring a scarifier and/or an aerator is a far more sensible choice. Both are available from the Arbour Landscape Solutions Website from only £50 per week.

Oh and there's a mower available too – in case yours dies suddenly and you need a replacement fast.
Wacker Plates

A great tool that comes in handy for most landscaping jobs. If you're needing an extra one to speed up a job or if your own is being used elsewhere, you can hire a wacker plate from your Landscape Industry Specialist. There are two different sizes listed on the website to suit pretty much any project.

As ever, if the machine you're after isn't on the website, that doesn't mean it's not available. It means that it's in the queue waiting to be uploaded. Call Richard – if it's hireable we'll find one for you.
A wide range of landscaping tools and machinery

I've only talked about a very small percentage of the most popular tools in our machinery hire section. Visit our website for prices to hire
Excavators
Loading Dumpers
Submersible Pumps
Chipper Shredders
Mixers
Wacker Plates
Rollers
Laser Levels
Turf Cutters
Cut off Saws
Stump Grinders
Mowers
Lawn Aerators
Scarifiers
Post Hole Borers
Hedge Trimmers
Strimmers and Brushcutters
Blowers
Trenchers
Wacker Plates
Post Rammers
Chainsaws
Pressure Washers
Useful Links
Visit the Arbour Landscape Solutions Website to find out more

Contact Richard at Arbour Landscape Solutions

Buy landscaping tools and machinery